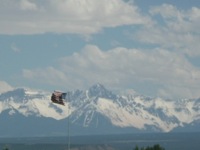 The Rocky Mtn Rental Retreats are available for relocating retired persons or professional couples/families, sport enthusiasts, hunters, vacationing families, destination Wedding guests, shoppers from Mtn resort towns or patients seeking medical treatment who would rather have the comfort and convenience of renting a fully furnished house or condo than staying in a hotel.
The AG HOUSE is an old Farmhouse in the North part of Montrose, Colorado which is the Old Apricot Orhcard. It is designed and decorated as a Hunting & Fishing base camp that is centrally located to Units 61, 62, 64 & 65. The house comes complete with a game processing room, a garden, library and brochures and Road, Trail and Topo Maps of the area. The owner, Chef Kendra Wilcox of Kendra's Kitchen Natural Foods, www.kendraskitchen.com may provide home cooked hearty hunter meals or leave preservative free dinners and her famous quinoa Breakfast Burritos with a trio of salsas in the freezer for vacationing families.
Accommodations: House, 2 Bedrooms + Office, 1 Bath (Sleeps 1-7) + Camper Trailer.
The Ag House is wheelchair accessible (some limitations may apply) and is one level. Wide hallways and "open" dining space.
RV Hook up & Parking Available. Boat/Trailer Parking Available. Lockable fenced yard for ATV's Trailers, ect.
The Peaceful Sunny Walk in/Ski Home Mt. Village 2 bed/2 bath condo is available for long term rental.
It is great for a professional couple that is conducting business via the internet/ telecommunications, families that are vacationing or relocating. Chef Kendra may stock your fridge or freezer. It is located in the Meadows area and is accessible to the Mt. Village Core, Grocery Store & the Golf Course via the Chondola, Free Dial -a -ride or a 10 –15 minute walk. Great 20 minute loop hiking/biking/dog trail behind the complex.
Accommodations: Condo, 2 bedrooms and 2 full baths, Office area.
A P.O. Box is available in Mt. Village, a 1-2 minute walk across Prospect Creek. Additional Storage Space, Fridge & Freezer available in the front part of the garage and 2 Free Parking spaces.
For rental rates for the peaceful walk in/ski home condo and for The Ag house, please inquire: email KW@KendrasKitchen.com or call 800.894.9086 or Verizon cell # 970.708.7759
Please check out my other website
Text Messages only accepted from Established Companies or Previous Landlord References. An Application applies to acceptance to your visit at the www.rockymtnrentalrtreats.com
Copyright rockymtnrentalretreats.com 2015 - 800.894.9086 - Kendra's Cell # 970.708.7759 - Email - KW@KendrasKitchen.com