Ski/Golf Condo, Telluride, Colorado
The address is The Outlaws @ Prospect Creek, 323 Adams Ranch Road, Unit 8a, Mt. Village, Colorado 81435. Condo is approx. 1,000 square feet. No access to garage.
Parking permit info: $25.00 annual parking permit in the Meadows Parking available for purchase through Town of Mt. Village Police Dept.
P.O. BOX at the Meadows Post Office.
The condo's living room/dining room/kitchen is an open space that creates a spacious living area. The armoire contains a 19 inch color TV, Videos, DVD's and CD's. There is no broadcast TV in living area.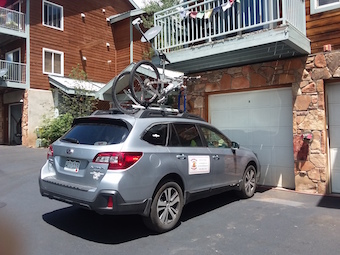 Stainless steel appliances
The Master bedroom is decorated with Asian accents and comforts include candlelight scones, large window overlooking aspen groves, deer & elk and 300 count cotton sheets, quality semi firm queen size bed with down pillows & a comforter.
The master bathroom has a jetted therapeutic tub.
The room is separated by a long hallway and there are no common walls throughout the condo.
There is a washer & dryer in the hallway closet.
Condo has a lot of closet space.
There is a free dial-a-ride service and one may walk to the Chondola and take a 3 minute ride to the Mt. Village Core/Centre and board the 8 seater Gondola which is a 12 -14 minute picturesque ride to the Town of Telluride.
Procedure for Rental: References, Rental Application with Copy of Driver's License or Passport, Personal Interview and Showing of the Condo, Lease Signed & Accepted by All Persons, First & Last Month's Rent, Security/Damage/Cleaning/Pet Refundable Deposit. Non Refundable Lease.